This article concerns content exclusive to the original Warcraft III: Reign of Chaos game release.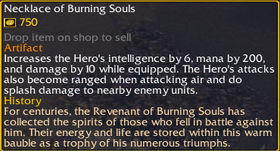 For centuries, the Revenant of Burning Souls has collected the spirits of those who fell in battle against him. Their energy and life are stored within this warm bauble as a trophy of his numerous triumphs.
Ad blocker interference detected!
Wikia is a free-to-use site that makes money from advertising. We have a modified experience for viewers using ad blockers

Wikia is not accessible if you've made further modifications. Remove the custom ad blocker rule(s) and the page will load as expected.