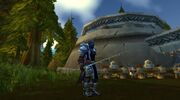 Nat Pagle's Extreme Angler FC-5000 was (before Patch 3.1.0) the ultimate in fishing gear for the extreme angler! If you like sitting on a shoreline endlessly throwing a shiny piece of metal in the water hoping to tear a fish from its home, this is the pole for you! For its increased damage and DPS stats since Patch 4.0.3a, it still rates as one of the top poles in the game.
This item is a reward from:
Patches changes
Edit
Patch 4.0.3a

(2010-11-23): Dmg and DPS stats greatly increased; available to both factions now.


Patch 3.1.0

(14-Apr-2009): The fishing skill bonus is reduced from 25 to 20.


Patch 1.5.0

(2005-06-07): Added.

External links
Edit
Ad blocker interference detected!
Wikia is a free-to-use site that makes money from advertising. We have a modified experience for viewers using ad blockers

Wikia is not accessible if you've made further modifications. Remove the custom ad blocker rule(s) and the page will load as expected.