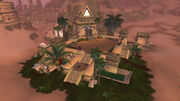 Nahom[66.35, 41.86] can be found just northwest of the Halls of Origination in Uldum and roughly west of the Tombs of the Precursors. Nahom is a pivotal point in the defense of Ramkahen; King Phaoris remains worried that the Neferset will attack Nahom and then their capital when he sends troops west to attack Neferset City. Players are sent here to see to the defenses and discover with their Ramkahen allies that a great and powerful weapon was built into Nahom's temple.
Inhabitants
Edit
Quest givers
NPCs
Patch changes
Edit
External links
Edit
Ad blocker interference detected!
Wikia is a free-to-use site that makes money from advertising. We have a modified experience for viewers using ad blockers

Wikia is not accessible if you've made further modifications. Remove the custom ad blocker rule(s) and the page will load as expected.