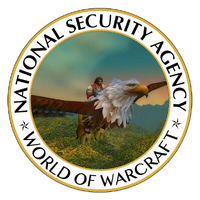 The National Security Agency (or "NSA") is a super secret data gathering and signals intelligence agency of the U.S. Federal government that has apparently infiltrated World of Warcraft looking for signs of terrorist activity.
External links
Edit

Note: This is a generic section stub. You can

help expand it

by clicking

 Edit to the right of the section title.
News

TheGuardian.com
Xbox Live among game services targeted by US and UK spy agencies
James Ball, Monday 9 December 2013 18.26 EST

TheGuardian.com
NSA files: games and virtual environments paper
(PDF) Monday 9 December 2013 07.00 EST

ProPublica.org
World of Spycraft: NSA and CIA Spied in Online Games
by Justin Elliott, ProPublica, and Mark Mazzetti, The New York Times, Dec. 9, 2013, 6:59 a.m.
Ad blocker interference detected!
Wikia is a free-to-use site that makes money from advertising. We have a modified experience for viewers using ad blockers

Wikia is not accessible if you've made further modifications. Remove the custom ad blocker rule(s) and the page will load as expected.