Mythrin'dir is a level 30 general trade vendor located in the Craftsmen's Terrace [58, 34] in the night elf city of Darnassus.
Notable items
Edit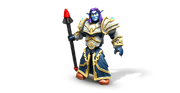 A Night elf Mythrin is featured in Mega Bloks World of Warcraft. They may or may not be the Same?
His name is a reference to Gandalf from Lord of the Rings, who is called Mithrandir by the elves.
External links
Edit