WoWWiki Hosted AddOn Page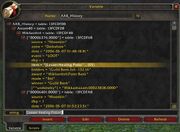 myDebug is a very helpful addon to addon developers. Features include:
Graphical dumps of variables (will recurse into nested tables)
On-the-fly editing of (sub)variables
Multi-line multi-script editor
Scripts kept across restarts
Load on demand
Download
Edit
myDebug (Mikk)
Edit
Various improvements to myDebug 1.3 that Mikk sent to Scheid for integration but never heard back about for 45 days:
Ad blocker interference detected!
Wikia is a free-to-use site that makes money from advertising. We have a modified experience for viewers using ad blockers

Wikia is not accessible if you've made further modifications. Remove the custom ad blocker rule(s) and the page will load as expected.