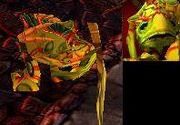 Murloc Guardians were part of the Murloc tribe of Underworld Minions. They maintained a magic wall around Sen'jin and a Murloc Sorcerer. Thrall killed them but was too late to rescue Sen'jin. They are found in the Blizzard-made campaign called "Exodus of the Horde" which comes with the Frozen Throne Expansion pack in Warcraft III.
Statistics
Edit
500 HP
500 MP
18-20 piercing ranged damage
0 light armor
casts the heal spell and the fairy fire spell
Ad blocker interference detected!
Wikia is a free-to-use site that makes money from advertising. We have a modified experience for viewers using ad blockers

Wikia is not accessible if you've made further modifications. Remove the custom ad blocker rule(s) and the page will load as expected.