Multi-Shot

Multi-Shot

40 yd  range
40 Focus
Requires Ranged Weapon
Fires several missiles, hitting your current target and all enemies within 8 yards for 40% Physical damage.

Usable by
Class
Hunter
Properties
Type
Offensive
School
Physical
Cooldown
 (GCD 1 sec)
Level required
24
Other information
Requirements
Requires Ranged Weapon

TCG

image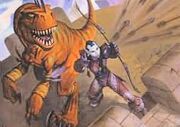 Multi-Shot is an instant AoE hunter ability learned at level 24.
Modified by
Edit
Talents
Beast Mastery specialization
Marksmanship specialization
Survival specialization
Patch changes
Edit
External links
Edit
Ad blocker interference detected!
Wikia is a free-to-use site that makes money from advertising. We have a modified experience for viewers using ad blockers

Wikia is not accessible if you've made further modifications. Remove the custom ad blocker rule(s) and the page will load as expected.