Ad blocker interference detected!
Wikia is a free-to-use site that makes money from advertising. We have a modified experience for viewers using ad blockers

Wikia is not accessible if you've made further modifications. Remove the custom ad blocker rule(s) and the page will load as expected.
Mug'thol Warcraft III Statistics
Edit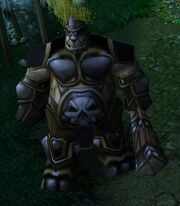 1150 HP (+21% more than a regular Ogre Lord)
500 MP (same as a regular Ogre Lord)
41-46 chaos melee damage (+5% more than a regular Ogre Lord)
3 heavy armor (same as a regular ogre Lord)
Abilities

Command Aura (additional damage aura)
Mana Burn (target's mana is lowered and they receive damage equal to mana lowered)
Shockwave (line damage)
Note:Mug'thol is being compared to an Ogre Lord which is the most powerful non-unique type of Ogre. Also of note is that he has one eye in Warcraft III but two in World of Warcraft.