Mudsnout tribe
104,310pages on
this wiki
Talk

0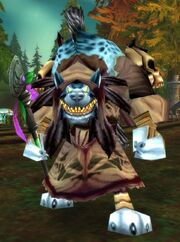 The Mudsnout tribe is a tribe of gnolls found in the Hillsbrad Foothills. They have overrun Nethander Stead and are apparently growing large white mushrooms called Mudsnout Blossoms. They are the only tribe of gnolls, besides the Rot Hide, found in Lordaeron in World of Warcraft.
There seems to be two class of Mudsnouts in World of Warcraft.
Famous/Named Mobs
Edit
Ro'Bark is a level 28 rare spawn, and may be their leader.