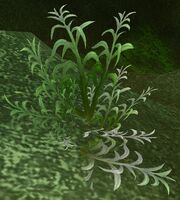 Mountain Silversage is a Herb that can be gathered by Herbalists.
Mountain Silversage can be found on mountainsides in various high level zones of Azeroth, and in Hellfire Peninsula. Often, reaching the herb node requires a bit of climbing. It requires 280 Herbalism to gather.
Mountain Silversage as an Ingredient
Edit
Mountain Silversage is used in the following recipes:
Inscription
Edit
External links
Edit

Mountain Silversage Farming - OmgNab.com
Herbalism herbs
Seeds
Apprentice
Journeyman
Expert
Artisan
Master
Grand Master
Illustrious Grand Master
Zen Master
Draenor Master
Fel? Master
† Added with
Ad blocker interference detected!
Wikia is a free-to-use site that makes money from advertising. We have a modified experience for viewers using ad blockers

Wikia is not accessible if you've made further modifications. Remove the custom ad blocker rule(s) and the page will load as expected.