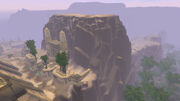 Mount Akher[54.4, 75.4] is a large, flat-topped mountain that overlooks Neferset City from the north in Uldum. There are few Neferset forces defending it, and Salhet thinks it might be a valuable strategic point that will aid the Ramkahen in their invasion of the city. It is lightly guarded, and players escort a small band of fighters to take the peak.
Inhabitants
Edit
Base
Peak
Patch changes
Edit
External links
Edit
Ad blocker interference detected!
Wikia is a free-to-use site that makes money from advertising. We have a modified experience for viewers using ad blockers

Wikia is not accessible if you've made further modifications. Remove the custom ad blocker rule(s) and the page will load as expected.