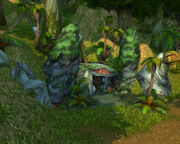 The Mosh'Ogg Ogre Mound
REDIRECT Template:Map/Coords is an ogre mound inhabited by the Mosh'Ogg ogres located in the northeastern part of Stranglethorn Vale, just south of Zul'Gurub. Deep inside the mound, their leader, the ogre magi Mai'Zoth holds a powerful relic called the Mind's Eye. As of Patch 2.3 these ogres are no longer elite.
External links
Edit
Ad blocker interference detected!
Wikia is a free-to-use site that makes money from advertising. We have a modified experience for viewers using ad blockers

Wikia is not accessible if you've made further modifications. Remove the custom ad blocker rule(s) and the page will load as expected.