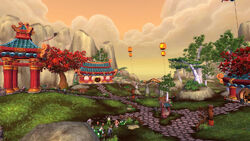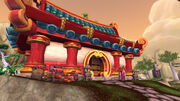 Morning Breeze Village[30.7, 36.9] is located in the upper western hills of the Wandering Isle, dangerously close to the hozen Fe-Fang Village. On its northeastern edge is the large Morning Breeze Lake, while the road takes adventurers into the Ridge of Laughing Winds.
Inhabitants
Edit
Quest givers
Vendors
NPCs
Patch changes
Edit
Ad blocker interference detected!
Wikia is a free-to-use site that makes money from advertising. We have a modified experience for viewers using ad blockers

Wikia is not accessible if you've made further modifications. Remove the custom ad blocker rule(s) and the page will load as expected.