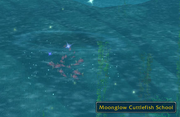 A Moonglow Cuttlefish School is a Fishing pool which primarily contains [Moonglow Cuttlefish]. These schools can be found in the Frozen Sea around Northrend.
Contains
Edit
In addition there's a 65% chance of getting an additional  

[

Pygmy Suckerfish

]

with each catch.
Each school lasts for 3 to 5 catches.
Locations
Edit
Achievements
Edit
You must fish from one of these schools to complete

 Northrend Angler.
As an ingredient
Edit
Moonglow Cuttlefish can be used by a cook to make
 [Cuttlesteak]:
External links
Edit

El's Extreme Anglin'
Ad blocker interference detected!
Wikia is a free-to-use site that makes money from advertising. We have a modified experience for viewers using ad blockers

Wikia is not accessible if you've made further modifications. Remove the custom ad blocker rule(s) and the page will load as expected.