Monk abilities
104,492pages on
this wiki
Talk

0
This article or section is likely to dramatically change once

Legion

begins.

Feel free to update any incorrect values (e.g. ability and talent articles), but please avoid overwriting all previous information with more current information (e.g. location and NPC articles).
Monk abilities mostly center around mastery of bare-handed combat, choosing to draw their weapons only for devastating finishing moves. Monk healers bring harmony and balance to every group, healing even the most grievous of injuries with ancient remedies and focused spiritual arts. And few can hope to out-last the unquenchable prowess of the Monk Brewmaster, whose empowering beverages and unpredictable combat style allow them to absorb incredible amounts of punishment.
Core abilities
Edit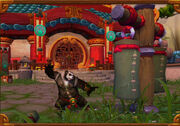 Glyph-taught
Edit