Mograine's Might is a powerful two-handed mace obtained from Scarlet Commander Mograine in Scarlet Monastary. It is an excellent choice of weapon for any class that can wield it.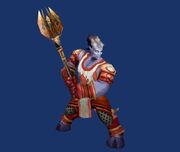 Mograine's Might drop off of Scarlet Commander Mograine in Scarlet Monastery.
This mace looks similar to the one wielded by Sauron in the prologue of The Lord of the Rings: The Fellowship of the Ring.
External links
Edit
Ad blocker interference detected!
Wikia is a free-to-use site that makes money from advertising. We have a modified experience for viewers using ad blockers

Wikia is not accessible if you've made further modifications. Remove the custom ad blocker rule(s) and the page will load as expected.