Mmmrrrggglll is the chieftain of the Grimscale Murlocs who are situated at both the Tranquil Shore and the Golden Strand. It is possible that he was the one responsible for the theft of cargo from Captain Kelisendra's ship. To find him, simply keep an eye throughout the Golden Strand as he wanders the length of the Murloc camps on the shoreline. He can easily be recognized by his somewhat unique colors.
When low on health, he will heal himself back up to full health using Healing Wave. However, he only appears to do this once or twice in any given fight. He also utilizes the Shaman abilities Frost Shock and Chain Lightning.
Objective of
Edit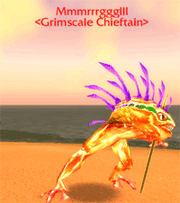 Has a chance to drop:
External links
Edit
Ad blocker interference detected!
Wikia is a free-to-use site that makes money from advertising. We have a modified experience for viewers using ad blockers

Wikia is not accessible if you've made further modifications. Remove the custom ad blocker rule(s) and the page will load as expected.