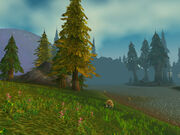 Misty Shore [36, 25] is a stretch of waterline running from Ruins of Alterac to Silverpine Forest in the contested territory of Hillsbrad Foothills. Aside from its rather large population of turtles, the shore also houses a pair of Scarlet Crusade-affiliated humans, who zealously attack those who pass too close.
It is possible to view the Dawning Isles from the Misty Shore, with the eerie Fenris Keep in the distance.
Ad blocker interference detected!
Wikia is a free-to-use site that makes money from advertising. We have a modified experience for viewers using ad blockers

Wikia is not accessible if you've made further modifications. Remove the custom ad blocker rule(s) and the page will load as expected.