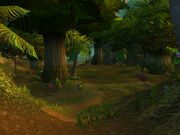 A valley in the southern part of the Cape of Stranglethorn (Stranglethorn Vale) inhabited by the great Mistvale gorillas. Adventurers often come through, looking to find Mistvale Giblets, Gorilla Fangs, or the very rare Aged Gorilla Sinew.
External links
Edit
Ad blocker interference detected!
Wikia is a free-to-use site that makes money from advertising. We have a modified experience for viewers using ad blockers

Wikia is not accessible if you've made further modifications. Remove the custom ad blocker rule(s) and the page will load as expected.