The subject of this article was removed from World of Warcraft in patch 4.0.1.

This includes items and quests that can no longer be obtained.
The in-game information in this article is kept purely for historical purposes and should probably not be under any other categories.
For Forsaken battlemaster, see Misery (battlemaster).
The slower the death, the more agonizing the pain [1] (

TCGDoW 54

)
Misery is a Tier 8 Priest talent in the Shadow tree. It causes the Priest's Mind Blast, Mind Flay and Mind Sear spells to give the target a debuff that increases spell damage taken by 5/10/15% of the Priests total spellpower. Your Shadow Word: Pain, Mind Flay and Vampiric Touch also increase the chance for harmful spells to hit by 1/2/3%, lasting 24 seconds. Misery benefits all other casters in the party or raid as it increases the chance for spells to hit.
Rank table
Edit
| Rank |  % Increase |  % Damage |
| --- | --- | --- |
| 1 | 1 | 5 |
| 2 | 2 | 10 |
| 3 | 3 | 15 |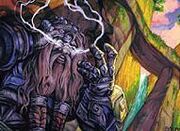 Cataclysm
Edit

This section concerns content exclusive to Cataclysm.
With Cataclysm, Misery will no longer affect spell Hit chance.[2]
Patch changes
Edit
/

Patch 4.0.1

(12-Oct-2010): Removed.

/

Patch 3.0.2

(14-Oct-2008): Reduced to 3 ranks. Changed from causing the damage to take 1/2/3/4/5% additional damage from spells, to increasing the chance to hit the target with spells by 1/2/3% and increasing the damage of your Mind Blast, Mind Flay and Mind Sear spells by an amount equal to 5/10/15% of your spell power.

References
Edit
External links
Edit