Mirror Image is a mage talent available at level 45. Casting it creates three copies of the mage that cast spells at the current target and have a fraction of the mage's health and spell power. This ability was added in Wrath of the Lich King.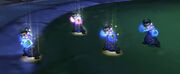 This spell is on the global cooldown, making its activation a slight DPS loss. However, it does not trigger a GCD on every other mage spell that doesn't have a global cooldown such as Cold Snap, Icy Veins, Combustion, and damage trinkets.
The images created do low damage and receive a percentage of the mage's spell power. They cast 3.0 second Frostbolts. Mirror Images inherit the spell hit rating on their master's gear (but not that of talents).
The Mirror Images inherit the Mage's threat lists, and the Mage also gains a threat reduction debuff like Fade. This makes it useful as a last-ditch threat dump.
Patch changes
Edit
External links
Edit
Ad blocker interference detected!
Wikia is a free-to-use site that makes money from advertising. We have a modified experience for viewers using ad blockers

Wikia is not accessible if you've made further modifications. Remove the custom ad blocker rule(s) and the page will load as expected.