The subject of this article was removed from World of Warcraft after the Warlords of Draenor opened the Dark Portal.

The in-game information in this article is kept purely for historical purposes and may not need to remain under any other categories.
| | | |
| --- | --- | --- |
| " | What affects the body will surely affect the mind. | " |
Mind-numbing Poison is a core rogue ability learned at level 28. Each strike from a coated weapon has a chance to poison the target, reducing their casting speed by 50%.
The more concentrated form is [Mind Paralysis], applied via [Shiv].
Modified by
Edit
Item Level

25

Minor Glyph
Classes: Rogue
Requires level 25
Use: Permanently teaches you this glyph.

You apply poisons to your weapons 50% faster.
Sell Price: 1
Patch changes
Edit
External links
Edit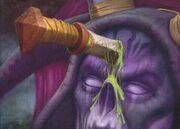 Ad blocker interference detected!
Wikia is a free-to-use site that makes money from advertising. We have a modified experience for viewers using ad blockers

Wikia is not accessible if you've made further modifications. Remove the custom ad blocker rule(s) and the page will load as expected.