Ad blocker interference detected!
Wikia is a free-to-use site that makes money from advertising. We have a modified experience for viewers using ad blockers

Wikia is not accessible if you've made further modifications. Remove the custom ad blocker rule(s) and the page will load as expected.
Mega Bloks World of Warcraft are World of Warcraft-themed Mega Bloks unveiled at the 2012 Toy Fair in New York. There are currently 21 sets and 32 figures, including: Jade Chen, Thrall, Rotgut, Gravegnaw, and Genjii.
Characters
Edit
Chest Plate
Edit
Shoulders
Edit
Secret Loot
Edit
World of Warcraft Special
Edit
From November 10th to December 21st, a 5 part Mega Bloks World of Warcraft stopmotion was released on Mega Blok's youtube channel. [1]
All figures in the first wave of sets (Summer 2012), were in the stopmotion. There were many different Orcs, Humans, Blood Elfs, and other races that were "customs", they had armor that was included in other sets (example: Orc had Darkhowl's torso armor).
It included in Episode 1:
Of the Alliance: Colton
Of the Horde: Ragerock, Valoren, Scarbuck
It included in Episode 2:
Of the Horde: Ragerock, Valoren
Other: Arthas, the Lich King, Sindragosa
It included in Episode 3:
Of the Alliance: Colton, Ironoak
Of the Horde: Ragerock, Valoren
It included in Episode 4:
Of the Alliance: Flint, Darkhowl
Of the Horde: Ragerock, Valoren, Light Hoof, Krazzle
It included in Episode 5:
Of the Alliance: Colton, Varian Wrynn
Of the Horde: Ragerock
Other: Deathwing
Part 1: The Battle Begins
Part 2: Arthas' Rule

02:43

Mega Bloks World of Warcraft Episode 1 The Battle Begins

03:17

Mega Bloks World of Warcraft Episode 2 Arthas' Rule

Part 3: Barrens Chase
Part 4: Sabotage Quest

03:24

Mega Bloks World of Warcraft Episode 3 Barrens Chase

03:08

Mega Bloks World of Warcraft Episode 4 Sabotage Quest

Part 5/Final: Deathwing's Stormwind Assault

03:06

Mega Bloks World of Warcraft Final Episode Deathwing's Stormwind Assault
Other Videos
Edit
Making of Mega Bloks World of Warcraft Video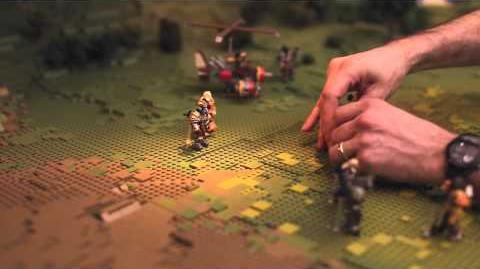 External links
Edit
News