Mechanical Squirrel Box

Item Level

15

Use: Teaches you how to summon this companion.
Sell Price: 1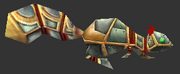 The Mechanical Squirrel Box item summons and dismisses a Mechanical Squirrel, a squirrel companion that follows you around, meaning it is a non-combat pet and will not aid you in battle.
Mechanical Squirrel Box is crafted by Engineers with a skill level of 75.
The schematic drops off creatures with their levels in the 10s-20s.
A Mechanical Squirrel Box can sell in the Auction House typically for around 1

, but can get much higher (up to 50

) on some servers.
External links
Edit
Ad blocker interference detected!
Wikia is a free-to-use site that makes money from advertising. We have a modified experience for viewers using ad blockers

Wikia is not accessible if you've made further modifications. Remove the custom ad blocker rule(s) and the page will load as expected.