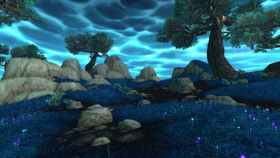 Mazu's Overlook is an unpopulated bluff located west of Soggy's Gamble in the Dread Wastes. A steep path leads up from Soggy's Gamble near Master Angler Ju Lien, though it can also be accessed via the main road.
Patch changes
Edit
Ad blocker interference detected!
Wikia is a free-to-use site that makes money from advertising. We have a modified experience for viewers using ad blockers

Wikia is not accessible if you've made further modifications. Remove the custom ad blocker rule(s) and the page will load as expected.