The subject of this article was removed from World of Warcraft in patch 3.0.2.

This includes items and quests that can no longer be obtained.
The in-game information in this article is kept purely for historical purposes and should probably not be under any other categories.

Maul of the Redeemed Crusader

Item Level

83

Speed 3.60
244 - 367 Damage
(84.9 damage per second)
+24 Intellect
+29 Stamina
Durability 120 / 120
Requires level 60
Equip: Restores 8 mana per 5 sec.
Equip: Increases spell power by 35.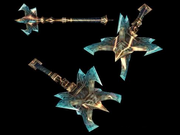 Maul of the Redeemed Crusader is a two-handed mace with caster stats. Usually falls best in the hands of a Paladin or Shaman considering Druids find better damage staves.
This item drops from The Four Horsemen in Naxxramas.
External links
Edit