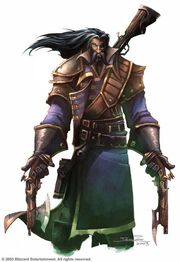 Marksmen are warriors who have embraced firearms as their weapon of choice. Studying the techniques of the dwarves, these soldiers craft their own weapons and hone their aim until they are capable of incredible feats of speed and accuracy. Marksmen learn to trust their instinctive ability with firearms to make incredibly skilled shots.[1]
The most experienced marksmen become epic marksmen.
Famous/named
Edit
 

Galamav the Marksman

 <Kargath Expeditionary Force> - Badlands
 

Marksman Bova

 <Specialty Ammunition Vendor> - Shattrath City
 

Marksman Udabu

 <Gunsmith> - The Storm Peaks
Marksmen in World of Warcraft
Edit
References
Edit
Ad blocker interference detected!
Wikia is a free-to-use site that makes money from advertising. We have a modified experience for viewers using ad blockers

Wikia is not accessible if you've made further modifications. Remove the custom ad blocker rule(s) and the page will load as expected.