The Maraudine clan of centaur were founded by Maraudos. One of the five main clans of centaur, they occupy and maintain the temple of Maraudon, a shrine to their ancient Khan and the procreators of the centaur in Desolace.
Settlements
Edit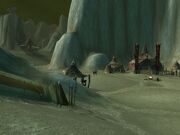 The Maraudine have a settlement in the Valley of Spears which is also the entrance to Maraudon; the tomb of Zaetar. Only the bravest and mightiest of the tribe's warriors are chosen to guard the tomb of Zaetar.
Known classes within the Maraudine tribe are:
Ad blocker interference detected!
Wikia is a free-to-use site that makes money from advertising. We have a modified experience for viewers using ad blockers

Wikia is not accessible if you've made further modifications. Remove the custom ad blocker rule(s) and the page will load as expected.