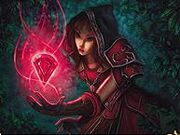 Mana Rubies are soulbound items that, when used, regenerate a portion of the user's mana. They are created by Rank 1 of Conjure Mana Gem. While the spell uses the word 'conjure', mana gems are not considered conjured items in that they do not disappear while logged off.
Patch Changes
Edit
In Patch 3.0.2, mana gems have become unique and are no longer destroyed after being offline fifteen minutes. Additionally, charges now replenish while offline.
External links
Edit
Ad blocker interference detected!
Wikia is a free-to-use site that makes money from advertising. We have a modified experience for viewers using ad blockers

Wikia is not accessible if you've made further modifications. Remove the custom ad blocker rule(s) and the page will load as expected.