The subject of this article or section did not make it out of the beta stages of World of Warcraft or its expansions.

The in-game information in this article or section is kept purely for historical purposes.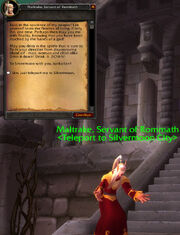 Maltrake, Servant of Rommath, an arrogant blood elf, was a placeholder NPC in the early beta versions of The Burning Crusade who acted as a teleport to Silvermoon City.