102,998pages on
this wiki
Talk

0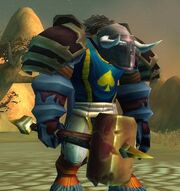 Malown's Slam is a two-handed mace with a nice stun proc. Also known as a "budget reaper", as it does damage similar to the Arcanite Reaper, while being available as a drop from a low-endgame instance.
Source
This item drops from Postmaster Malown in Stratholme.
Notes
The estimated droprate is 20%
Malown's Slam is a reference to former NBA star Karl "The Mailman" Malone.
External links