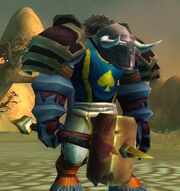 Malown's Slam is a two-handed mace with a nice stun proc. Also known as a "budget reaper", as it does damage similar to the Arcanite Reaper, while being available as a drop from a low-endgame instance.
This item drops from Postmaster Malown in Stratholme.
The estimated droprate is 20%
Malown's Slam is a reference to former NBA star Karl "The Mailman" Malone.
External links
Edit
Ad blocker interference detected!
Wikia is a free-to-use site that makes money from advertising. We have a modified experience for viewers using ad blockers

Wikia is not accessible if you've made further modifications. Remove the custom ad blocker rule(s) and the page will load as expected.