Cat Carrier (Black Tabby)

Item Level

20

Use: Teaches you how to summon this companion.
Sell Price: 15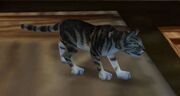 Cat Carrier (Black Tabby) summons a housecat battle pet called Black Tabby Cat.
This item is a rare drop from many creatures in the Hillsbrad Foothills. It can also be occasionally obtained from multiple containers, and is most common in the Satchel of Exotic Mysteries, which has a 0.3% chance to contain this item.
Black Tabbies were once called "Maine Coons", but the name was changed in accordance with the profanity filter.[citation needed] The model used does not accurately depict the common Maine Coon cat. In addition, the real world breed's name is derived from the state of Maine, which does not exist in World of Warcraft.
External links
Edit

WarcraftPets
Old

Kemp Guides
Ad blocker interference detected!
Wikia is a free-to-use site that makes money from advertising. We have a modified experience for viewers using ad blockers

Wikia is not accessible if you've made further modifications. Remove the custom ad blocker rule(s) and the page will load as expected.