Maidens of Shadows were six elven spellcasters within the Tomb of the Ancients in Dustwallow Marsh, the abode of the undead Lord Talendar. They were led by the Mistress of Shadows, and defended Lord Talendar, whos tomb they resided in. Unlike their host, the Maidens of Shadows remained alive, and they studied within the Tomb's libraries. They were all slain by Rexxar and his companions during the events of the Founding of Durotar.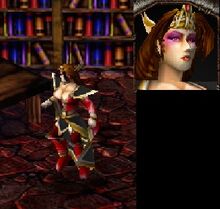 Statistics of Maiden of Shadows from Warcraft IIIEdit
Level 5
400 HP (+23% more than a regular Sorceress)
200 MP (same as a regular Sorceress)
81-83 magic ranged damage (+645% more than a regular Sorceress)
0 armor (same as a regular Sorceress)
Abilities

Slow (reduces target's movement and attack speeds)
Note: Maiden of Shadows is being compared to an Initiate level Sorceress.
Speculation
Edit
| | |
| --- | --- |
| | This article or section includes speculation, observations or opinions possibly supported by lore or by Blizzard officials. It should not be taken as representing official lore. |
The Maidens of Shadows were likely Highborne night elves, considering Talendar's obsession for arcane magic and the lack of other arcane-wielding races on Kalimdor. While the Tomb is located in Dustwallow Marsh, there are definitive night elf ruins at Nightmare Scar in the Barrens, and the Magistrates Temple is located nearby. The make and adornment of the Tomb is thoroughly unlike that of other natives of Kalimdor, and is the same at the caverns under Stonetalon Peak, likely of Highborne origin as well.
Ad blocker interference detected!
Wikia is a free-to-use site that makes money from advertising. We have a modified experience for viewers using ad blockers

Wikia is not accessible if you've made further modifications. Remove the custom ad blocker rule(s) and the page will load as expected.