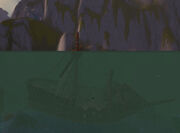 Maiden's Folly is one of two sunken Blackwater Raiders ships located in the Drowned Reef in southern Arathi Highlands. The other ship is named Spirit of Silverpine, and lies to the west of Maiden's Folly. Both ships were part of an expedition, along with a third ship, Harbinger, in search of a lost elven treasure. When the ships were signaled by Shakes O'Breen to come dock at their location, the sea rumbled, the tides lowered, and the two ships crashed into the reef.
Captain Steelgut was the captain of Maiden's Folly. He watched all the survivors being killed by terrible beasts, and not sure how he ended up on shore. Sadly, he was the only one to survive.
Ad blocker interference detected!
Wikia is a free-to-use site that makes money from advertising. We have a modified experience for viewers using ad blockers

Wikia is not accessible if you've made further modifications. Remove the custom ad blocker rule(s) and the page will load as expected.