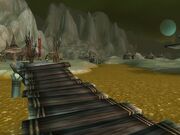 Magram Village is a centaur village, home of the Magram clan. It is located in the southeastern area of Desolace on the shores and islands of a series of polluted yellow pools. Crude bridges connect the islands to each other and the shore. Adventurers can choose to ally with the Magram clan in their ongoing war against the Gelkis clan.
Ad blocker interference detected!
Wikia is a free-to-use site that makes money from advertising. We have a modified experience for viewers using ad blockers

Wikia is not accessible if you've made further modifications. Remove the custom ad blocker rule(s) and the page will load as expected.