Magnificent Flying Carpet

Item Level

70

Requires level 70
Requires Tailoring (425)
Requires Artisan Riding
Use: Teaches you how to summon this rug. This is a very fast rug.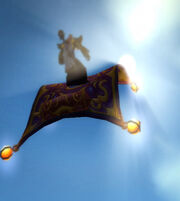 The Magnificent Flying Carpet is an epic mount which can be crafted by tailors with a skill level of 425.
As of Patch 4.0.3, this can be used as a flying mount in Azeroth with the appropriate riding (flying) skill.
The look of the carpet, as well as the buff description, is a clear reference to the Disney movie Aladdin.
See also
Edit
External links
Edit
Ad blocker interference detected!
Wikia is a free-to-use site that makes money from advertising. We have a modified experience for viewers using ad blockers

Wikia is not accessible if you've made further modifications. Remove the custom ad blocker rule(s) and the page will load as expected.