Magma Elemental are lava elemental mobs, and can be found in Searing Gorge [21.4, 55].
0.03% Chance of an epic drop.
0.07% Chance of a rare drop.
0.81% Chance of an Uncommon drop.
0.03% Chance of a common drop.
0.01% Chance of a poor drop.
Note: % drop chance was correct at the time the page was generated/created. This will not be updated.
Patch changes
Edit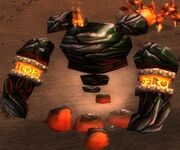 0400

Patch 4.0.3 (15-Nov-2010): Their model is being updated

External links
Edit