104,173pages on
this wiki
Talk

0

Magic Rooster Egg

Item Level

40

Requires level 40
Requires Riding (150)
Use: Teaches you how to summon this mount. This is a very fast mount.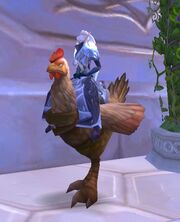 Source
This special mount only comes from the WoW TCG.
You receive one epic item version when you redeem the code (free).
It crows and scratches like a real-life rooster.
The level 40 mount (epic) can be traded in-game.
When learned, the rooster mount counts toward the Mountain 'o Mounts achievement (Horde or Alliance).
External links

Warcraft Loot Cards
Magic Rooster Egg - Video

UpperDeck Entertainment
Fields of Honor Loot Card Preview