Magic Rooster Egg

Item Level

40

Requires level 40
Requires Riding (150)
Use: Teaches you how to summon this mount. This is a very fast mount.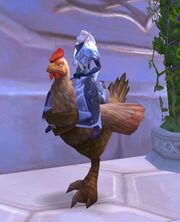 You need a WoW TCG loot card in the Fields of Honor set, called "El Pollo Grande" ("The Big Chicken" in Spanish), to redeem this giant chicken mount.
You receive one epic item version when you redeem the code (free).
It crows and scratches like a real-life rooster.
The level 40 mount (epic) can be traded in-game.
When learned, the rooster mount counts toward the Mountain 'o Mounts achievement (Horde or Alliance).
On the icon to summon the mount, it reads: "Summons and dismisses a rideable Magic Rooster. No, seriously. This is a very fast mount."
External links
Edit

Warcraft Loot Cards
Magic Rooster Egg - Video

UpperDeck Entertainment
Fields of Honor Loot Card Preview