103,497pages on
this wiki
Talk

0
| | |
| --- | --- |
| | The subject of this article or section is part of Hallow's End, a seasonal event that lasts two weeks. Once the event has run its course, this will no longer be available until next year, but there are no guarantees. |

Magic Broom

Requires level 20
Requires Apprentice Riding
Requires Hallow's End
Use: Summons and dismisses a rideable magical broom! This mount changes depending on your Riding skill and location.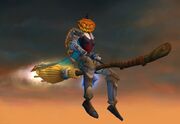 The Magic Broom is a rare mount random drop from the [Loot-Filled Pumpkin], dropped by the Headless Horseman, a boss found in the graveyard wing of Scarlet Monastery during the Hallow's End seasonal event. It can only be used only during Hallow's End. The broom scales with riding skill.
In lieu of dropping, it can also be purchased from
 Dorothy/
 Chub for 150

.
Notes
This has several advantages compared to other mounts:

It is free
It is very compact, allowing the rider to pass underneath low door frames and other narrow places
It is completely silent on flight, which some people find great.
It has no wings or bulky body to block the player's view of the ground.
Notes
It is BoP, and can only be used during the Hallow's End seasonal event. At the end of the Hallow's End, the broom will be removed from your bag.
This broom that scales with riding skill replaces several previous broom mounts:
These used to drop individually, now only the Magic Broom drops.
Patch changes
Patch 3.0.3 (04-Nov-2008): Are no longer instant cast, but now require the same cast time as regular mounts.

/ Patch 3.0.2 (14-Oct-2008): Added.

External links