Lucien Tosselwrench is a level 31 quest giver located in a small camp east of Kargath in in the contested territory of Badlands [25.8, 44.5]. He is a loyal, but quite pessimistic assistant of Lotwil Veriatus, and also quite a good alchemist.
 [37] 

Liquid Stone
In Cataclysm
Edit

This section concerns content exclusive to Cataclysm.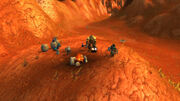 Lucien will be removed from his little camp and relocated to a small camp within the Scar of the Worldbreaker along with Martek the Exiled and Theldurin the Lost. It is unknown what happens to Lotwil.
External links
Edit