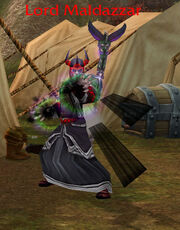 Lord Maldazzar is a level 56 rare mob human found near Sorrow Hill in the Western Plaguelands.
He can drop an [Invader's Scourgestone], as well as a random uncommon item, and awards 50 reputation with the Argent Dawn.
In Cataclysm, he is now a level 38 rare mob human located in Malicia's Outpost in the Western Plaguelands north of Gahrron's Withering.
This mob is often bugged and spawns below ground, so you can't see him. You probably need to be near his level for him to aggro and fight him.
In Warcraft III
Edit

This section concerns content exclusive to Warcraft III.
He was a random Death Knight in Warcraft III: Reign of Chaos.
External links
Edit

Battle.net
Random

Death Knight hero