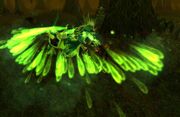 Lord Captain Wyrmak is a level 45 elite rare mob dragonspawn in the Swamp of Sorrows, in the area where the drake Somnus patrols.
Attacks and abilities
Edit
Acid Breath - Inflicts 10 Nature damage and an additional 2 damage every 5 sec. to enemies in a cone in front of the caster. Lasts 45 sec. Stacks up to 10 times.
Cleave - Inflicts 110% of normal melee damage to an enemy and its nearest ally.
External links
Edit
Ad blocker interference detected!
Wikia is a free-to-use site that makes money from advertising. We have a modified experience for viewers using ad blockers

Wikia is not accessible if you've made further modifications. Remove the custom ad blocker rule(s) and the page will load as expected.