Little Fawn's Salt Lick teaches you how to summon a Little Fawn, a Rare Critter battle pet.

Little Fawn's Salt Lick

Use: Teaches you how to summon this companion.
Sell Price: 15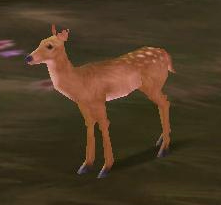 This item is obtained when you complete the

 Lil' Game Hunter achievement. This requires you to have learned 75 different kind of companions.
Patches and Hotfixes
Edit
0300
Patch 3.0.8 (2009-01-20): Added.

The "Lil' Game Hunter" achievement name is probably a reference to the «Big-game hunter» who is a person who likes hunting large animals for parts as trophies.
External links
Edit