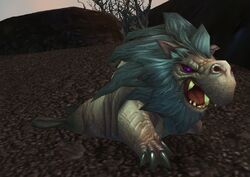 The lion seal is an aggressive type of amphibious animal similar to a dog with flippers more suited to swimming than land travel. This type of beast first appeared in Wrath of the Lich King. They appear to be similar to sea lions.
Types of lion seals:
Notable lion seals
Edit
Ad blocker interference detected!
Wikia is a free-to-use site that makes money from advertising. We have a modified experience for viewers using ad blockers

Wikia is not accessible if you've made further modifications. Remove the custom ad blocker rule(s) and the page will load as expected.