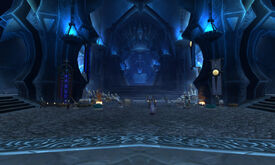 Light's Hammer is the entrance hall of Icecrown Citadel, held by the Ashen Verdict. Highlords Tirion Fordring of the Argent Crusade and Darion Mograine of the Ebon Blade, attired in their class' Tier 10 armor, can be found in here, as well as quartermasters and other vendors for the Ashen Verdict. All of the Tier 10 vendors are also located here.
Players enter from the north and head south toward Lord Marrowgar and Lady Deathwhisper. The Damned make incursions from the south and are dealt with by guard NPCs.
Alchemist Finklestein

<Ashen Verdict Quartermaster>

Goodman the "Closer"

<Emblem of Frost Quartermaster>
Armor Vendors
Edit
Ad blocker interference detected!
Wikia is a free-to-use site that makes money from advertising. We have a modified experience for viewers using ad blockers

Wikia is not accessible if you've made further modifications. Remove the custom ad blocker rule(s) and the page will load as expected.