Lifelike Mechanical Toad

Item Level

53

Use: Teaches you how to summon this companion.
Sell Price: 25
Lifelike Mechanical Toad will summon and dismiss Lifelike Toad, a toad companion.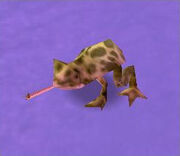 Lifelike Mechanical Toads are crafted by engineers with a skill level of 265.
The recipe for this item is taught by [Schematic: Lifelike Mechanical Toad], a world drop.
As the name suggests, it is incredibly lifelike; it looks just like an ordinary toad!
This pet may be a reference to the Philip K. Dick novel Do Androids Dream of Electric Sheep?, the basis for the film Blade Runner. In the novel, the protagonist discovers a toad out in the desert, only to discover it is a lifelike mechanical toad.
External links
Edit

WarcraftPets
Ad blocker interference detected!
Wikia is a free-to-use site that makes money from advertising. We have a modified experience for viewers using ad blockers

Wikia is not accessible if you've made further modifications. Remove the custom ad blocker rule(s) and the page will load as expected.