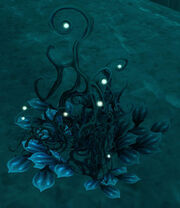 Lichbloom is a herb that can be gathered by herbalists.
Collected from the snowy zones in Northrend such as Storm Peaks and Icecrown. It may also contain a [Frost Lotus] and [Crystallized Life]. First gatherable at about skill level 425, millable at 325.
Lichbloom is a reagent of the following items:
External links
Edit
Herbalism herbs
Seeds
Apprentice
Journeyman
Expert
Artisan
Master
Grand Master
Illustrious Grand Master
Zen Master
Draenor Master
Fel? Master
† Added with
Ad blocker interference detected!
Wikia is a free-to-use site that makes money from advertising. We have a modified experience for viewers using ad blockers

Wikia is not accessible if you've made further modifications. Remove the custom ad blocker rule(s) and the page will load as expected.